Burmese woodcraft – Where Beauty and Skills Meet and Merge to Perfection
While steel or metal-made crafts can survive for centuries and still keep their sheen as on day one, the humble old wooden crafts are not so lucky. Everything from decay, insect damage, to fire and human carelessness can destroy them in a blink – and it has many times. Still, there is something about quality woodcraft pieces that makes them still so… alluring to us, so interesting; and ever so valuable.
And guess what? When it comes to making quality wooden art pieces, no one can beat the Burmese. Period.
In this article, let's take a closer look at what the Burmese wood crafts are all about, and what makes them so revered around the globe. Let's go.
Burmese wood carvings are truly one of a kind
Walk into any ancient Pagoda (temple) in Burma aka modern Myanmar and you are sure to get enchanted by the sheer abundance and beauty of the wooden carvings present. Intricate and creative, the wooden gables, eaves, wall arts, and other decors are a sight to behold. Granted, the centuries haven't exactly been kind on them but still…
Burmese wood carvings are mostly dimensional with aesthetical attention thrown into every detail. The styling reflects the rich distinct culture of the nation and paints a clear picture of the forgone years this green country has endured. Literally, every carving has a story to tell, and tourists and art enthusiasts from all over the globe flock to Myanmar every year to see and hear them.
The Wonderful History of Burmese wood carvings
According to experts, the Burmese wood carving scene started to flourish as long ago as the Pyu era, almost a thousand years ago. The outstandingly beautiful and serene floral wood carving patterns discovered from the great brass bells of Sare-khittaya are the best example of it.
Later eras like pagan, Ave period, and Nyaung – yan era added more energy and vibrancy to the Distinct Burmese wood carving style, setting it apart from the rest of the world.
If you want to enjoy the beauty of Burmese woodcraft in all its glory, we recommend that you take a trip to Bagan, the former capital of the Burmese kingdom. There you can find over 13000 temples, pagodas, and monasteries that were made from mainly wood and feature some of the most amazing wood carvings and decors anywhere in the world.
Burmese wood carvings – The different styles to look out for
The classic Burmese Wood carvings mostly come in 4 styles, with each exhibiting their cultural excellence with aesthetical finesse. The 4 Wood carving styles are
Kanote pan – this art style embraces the Burmese love for flowers and covers floral elements like petals, bulbs, leaves, stems, stalks, etc…
Nari – building on the countries deeply religious values, this art style depicts figures of Buddha, human beings, spirits, and other heavenly beings.
Kapi – This ancient Burmese wood carving style covers beasts, birds, ogres, dragons, and other mythical creatures which are presented engaging in nimble actions.
Gaza – ever seen those massive wooden figurines in Burma that are presented in somber, almost meditating postures? They are the best examples of Gaza wood carving style.
As you can see, this wide variety of art styles, together with a rich tradition of storytelling and myths, alongside a keen sense of aesthetical beauty has resulted in the creation of wooden works that are uniquely Burmese.
Quality that transcends time
Here's a wonderful tidbit about the Burmese wood-crafting industry; even in today's Burmese wood carving lessons, they are still using the names and terms that were in use since the Yatana-bon era, which was over 500 years ago. For example; the depiction of a three forked leave is called "Thonsa-ywet" and five forked ones are called "Ngasa-ywet."
Burmese wood carving – The artisans are the real hero's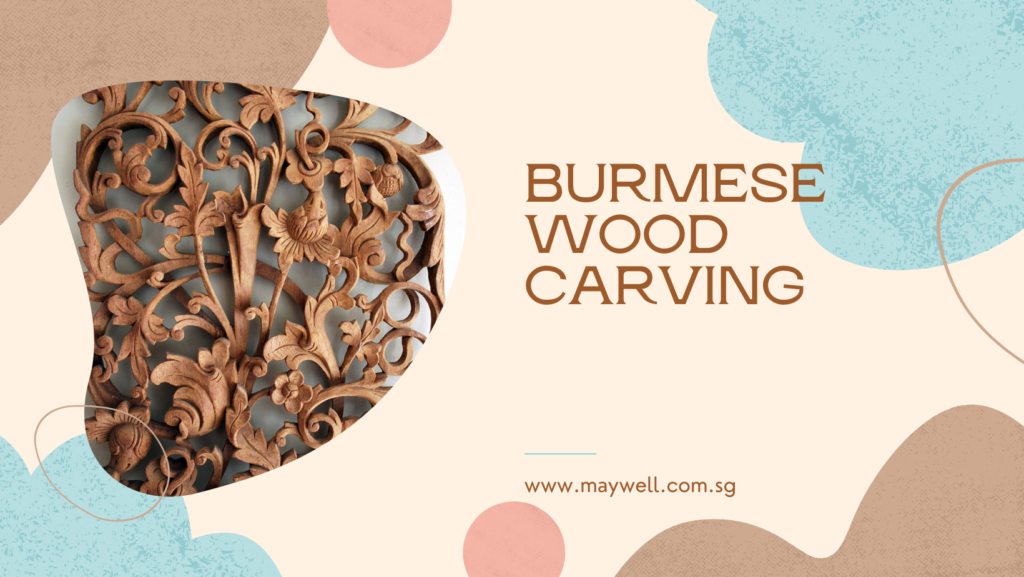 The main tool of the Burmese wood-carver is the iron chisel and beater. It comes in many shapes and there are over 50 types of them out there. Decades of practice have made these artisans very good at their job. With steady hands and a creative mind, they still follow their forefather's wood carving techniques to a "t", ensuring that the same level of uniqueness and heritage-inspired beauty that has forever highlighted Burmese woodworks is still kept alive and well even to this day.
The Burmese wood-crafting industry is mostly centered around their indigenous villages, and that's also where the best wood art pieces come from. They make them in every size, from palm sized handicrafts to human-sized art pieces and beyond.
The Burmese woodcarvers and their love for Teak wood are legendary (and for good reasons!)
In Burma, wood carving is mainly done on teak wood, which is the world's most expensive hardwood. Its beautiful golden brown color, decorative grain patterns, and extreme hardness have lent the Burmese wood arts a finish that you simply can't find elsewhere. The teak wood also takes on an extremely beautiful patina as it ages. This helps give art carvings made from it get better looking as years go by.
Also, teak wood is naturally weather, cracks, and rot-resistant and also repels bugs with ease, making things made from it relatively maintenance-free and long-lasting.
Final thoughts
Burmese wood arts and crafts continue to be a source of pride for all of Burma and within Burmese communities, the Burmese wood artisans are held to the highest respect. These exquisite wood artworks sell great both locally and internationally. Unfortunately, this rise in demand has also paved the way for a lot of duplicates, low-quality Burmese wood carvings to hit the markets.
If you are looking to buy authentic, high-quality Burmese woodworks at sensible prices, visit maywell.com today and check out our wonderful range of premium quality Burmese wood carving art collections.