Maximizing Your Living Space – Getting The Most Out Of Your Small Home Space
Small-sized homes are not just a fad on TLC anymore, and the benefits of minimal impact living – from lower utility costs to lesser waste and more – have made their way into our modern lifestyles. This is especially true for city dwellers, as the fast-moving and expensive city lives make affordable housing the better choice in every sensible way.
That being said, the space – or the lack thereof – might pose an issue for some. After all, we all seek the need for maximizing the space to make our home feel more spacious and welcoming.
If you are facing a similar dilemma like this, don't worry – we are here to help. Below, you'll find some of the best tricks and tips to get the most out of your living space. And that too without spending a huge fortune.
7 Great Tips For Every Small Homeowner
While the obvious color choices include White, Beige, and Soft, they aren't really the only options. Pale versions of bright colors like pink, blue, and green also work. They'll add a bit of character to your walls while preventing that closed-in feel.
1) Go for natural colors, always
Picking neutral, simpler color pallets for your walls is one of the easiest ways to push them back and make your home seem bigger than it actually is. Also, they are easy on the eyes, and can make the room feel modern and (if played right) even expensive.
Picking neutral, simpler color pallets for your walls is one of the easiest ways to push them back and make your home seem bigger than it actually is. Also, they are easy on the eyes, and can make the room feel modern and (if played right) even expensive.
2) Small, minimally styled furniture is the way to go
While grandiose furniture options look good on paper, it isn't the best for a small home as they will take up the bulk of the room and make you feel cramped in. So instead, search for minimal, space-efficient furniture options based on your individual needs. If you live alone or won't be entertaining a lot of guests, a single sofa would suffice. Also, if possible, go for multi-functional furniture choices whenever you can.
Ideally, when shopping for small-sized homes, you may want to pick ones that are lighter in color, has a leggy frame, uses glass, and have minimal styling that makes a room seem less constrict.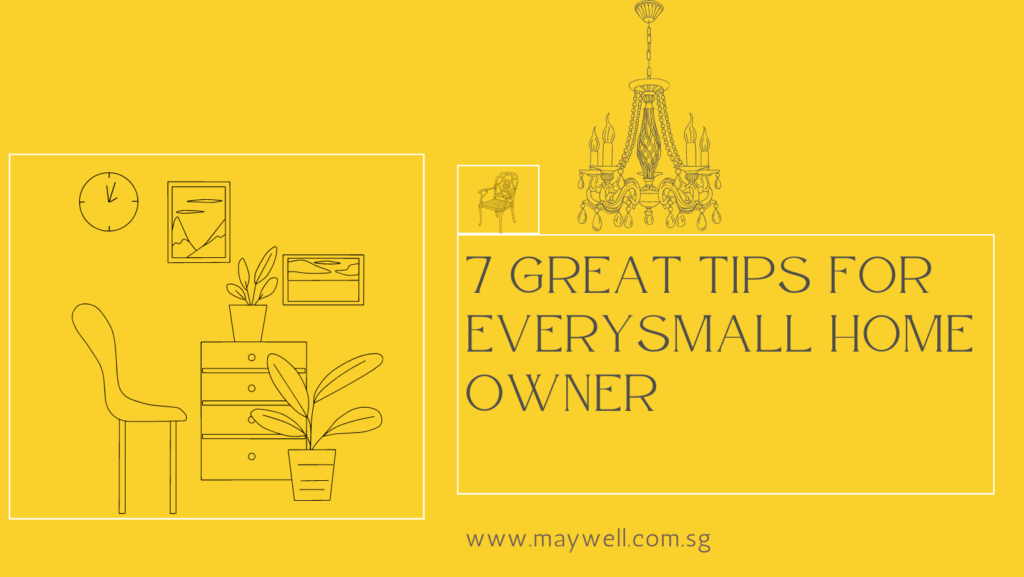 3) Lighting is very important too…
when it comes to small homes, having the right level of lighting is very important at setting the right tone and vibe and not make you feel like you're in a cave every time you walk in. Obviously, large windows and tons of natural light would always be more preferable. But if that's not an option, artificial light sources like floor lamps, chandeliers, and task lights can also work – provided you layer them right.
Go with a theme, experiment with different lighting options, levels, and placements. Avail the help of an expert interior designer if you can. Done right, you can really make your tiny living space feel bigger and more visually appealing.
4) Love art? Learn to display them better
Having some art pieces gracing your walls can be a really clever move when dealing with a small home as they help draw the eyes upwards and help set the tone in a limited space. For example, a beautifully done gallery wall can make your small space stylishly inviting – and if they extend to the ceiling, the power of attention will result in adding an illusion of visual height to your space.
Also, the kind of wall art you'll be putting up can really impact the tone of your home and help you personalize it more. From a small framed Polaroid to a large mural, anything will work.
5) Opt for a large rug area
Want another great way to make your room feel bigger? Go on and pick up a good-quality rug large enough to visually set your sitting area apart from the rest of your living room. Simply put, the Rug can act as a stage and highlight your main furnishings in a better way.
Unlike a small rug, a larger one can give off a sense of structure to your home while adding an illusion of having a bigger floor setup. Make sure to set it up so that it accommodates all your furniture without any leg spillage as it can really ruin the whole look of the room. Finally, make sure the rug has a muted color palate too (for reasons explained before).
6) Add life to your home, literally.
Blurring the lines between outdoors and indoors is a great way to make your home feel bigger while at the same time decorate it. Small potted plants like ferns and perennials are perfect for beautifying your space without eating up too much space. You can also use wall-bound greenery like spider plants to draw the eyes up more and fool them into thinking there is more to the room than there actually is.
Like wallpapers and other wall decors, the right selection of plants can effortlessly add color, texture, and a feel of depth to your home. The better air quality is just the added bonus.
7) Get creative with your storage choices
A cluttered, disorganized room is always gonna seem too cramped no matter how you look at it. So yeah, getting your belongings put away neatly & out of the way is as crucial as ever.
Always avoid bulky storage pieces and go with floating shelves or built-in bookcases to give you places to help put things away without taking up much floor space. Also, we are again making the case for multipurpose furniture pieces that can double up both as a seat or a table and a neat storage solution when you need it.
Our Final Thoughts
When it comes to decorating your home, the possibilities can be endless – and yes, even in a tiny home. Granted, there ARE some serious challenges to be faced. But hey, it's surely not impossible. So Get creative, start experimenting, and see what works for upgrading your small home living space to be its best version possible.
Since you don't have a ton of room to play with, we would again advise you to keep things simple and minimal. But hey, simple doesn't have to mean boring. Since this is gonna be the space we'll be spending a lot of our time in, it's crucial that we decorate the room with elements that fits our unique personalities and brings us joy and happiness.
If you want to know more about home improvement or have any questions regarding the content of this article, feel free to let us know in the comments.